I put up the gourd bird houses today, any suggestions? They are 12-15 feet above the ground, and 120 feet above the ground from the valley below. They are facing north on a southern slopped hill.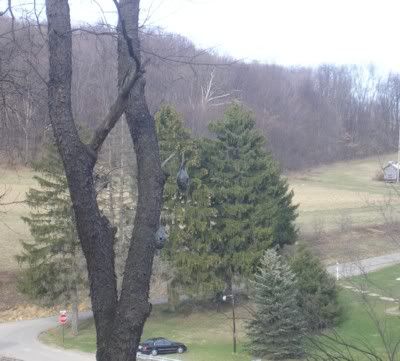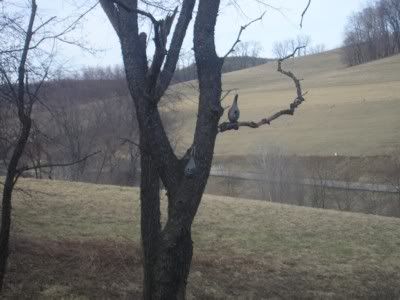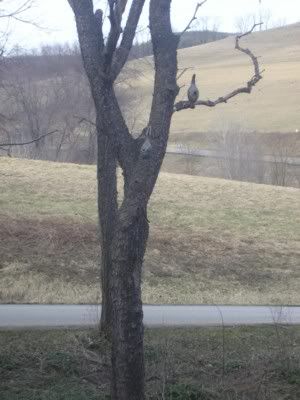 Looking to left, while putting up the bird houses, it was fine... Look to the right to the valley below, it made my leg shake on the ladder, a little.
I did go back up and hacked off that dead limb in the back ground.
Albert came by to thank me for his sign, that was nice, said he would have my tiller ready to pick up first thing next week. He said he had put it up today and it was really great.
I told him about the trees I was going to be putting in, he offered up a pto auger free of charge for a couple days when I pick up the tiller. I thought "that is great", and I knew right there and then the extra work I did to make his sign paided off. Bartering can be hard, meeting expectations and all.
A general rule to bartering is never to give too much or ask for too much. That's a fine line to find, sometimes you got to do a little extra and hope for the best. I didn't know he had a pto auger, and I am pleased that he is more than happy with his sign. I will go down tomorrow and take a pic.
Giving a little extra can have big rewards.
Sometimes giving a little extra effort can seem like hard work, and sometimes it might pay off. What if doesn't pay off? Than you didn't loose anything to begin with. The difference between doing a little extra and not doing it at all is the pay off. I always give a little extra, just fits me well. I agree, a hard lesson learned, sometimes it doesn't come back. But as always, sure is welcomed when it comes around