I went to the mill yesterday to pick up some salt for my well system. John said he had seen the sign and how much he liked it. He also mention how many people in town liked it. ( with a pop of around 200 word travels like high speed internet ).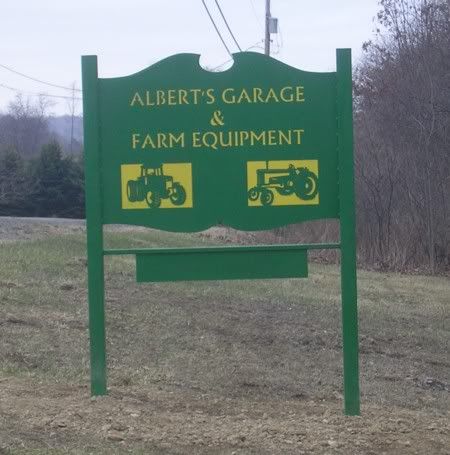 I drove down to Alberts and took a photo to share.
When I went down to visit with Albert, his wife was turning wrenches on a big International tractor, he was off in the field on a service call. She stopped and thanked me for the sign and how nice it was. She went on to tell me that the tiller tractor belonged to Alberts dad, and he had bought it for him some years ago. With his health so bad, he only used it that year. Rick ( Alberts son ) started to tell me that the tiller has very little hours on it, and said Albert was very pleased with the trade.
My tractor is geared a little to high for my box tiller, meaning, it works but the speed of the tractor is a little to fast to really till the soil really fine. Last year I had to rake the soil everywhere I planted, it was a lot of work. Having this tiller will allow me to till the soil finer as well as go between rows to keep the weeds down.
Albert tried to sell me the tiller last year, I even ran it in his garden as a test drive. But because I had opened my second business, money was to tight. So exchanging goods and services has worked out pretty good for both of us. The bonus is the pto auger he said he would lend me to get those holes dug.